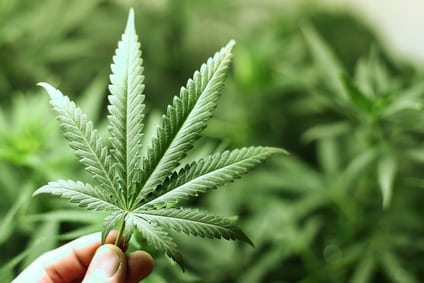 ​
Trump administration spokesman Sean Spicer has said there will be "greater enforcement" of federal drug laws in states that have legalized recreational marijuana. According to a news report in the LA Weekly, Spicer's remarks have put California's pot industry on high alert. Californians have just been celebrating the passage of Proposition 64, which allows anyone 21 and older to legally possess up to one ounce of marijuana and will allow retail purchases of recreational weed starting in 2018. The marijuana industry is expected to be worth $6.6 billion by 2020.
In 2014, the U.S. Drug Enforcement Administration raided four medical dispensaries in Los Angeles. And in 2011, the agency cracked down on medical marijuana shops in West Hollywood, the San Fernando Valley, and the Antelope Valley. The Obama administration later softened its enforcement, In late 2014, Obama signed into law the discontinuation of funding for federal crackdowns in medical marijuana states.
WILL THE ADMINISTRATION'S POLICY AFFECT CALIFORNIA?
When speaking on the subject, Spicer drew the line between medical and recreational marijuana saying the president understands why people with terminal illnesses need to use the drug to quell their pain and discomfort. He also mentioned that Congress has blocked the Justice Department's funding for crackdowns on state-recognized medical marijuana facilities.
Spicer also likened the legalization of marijuana to the nation's opioid crisis, which many say is not an accurate or fair comparison. His comments have marijuana advocates concerned that it could soon be open season on recreational cannabis businesses in the states including California whose residents have fully legalized weed. However, it is not clear how far the Trump administration will go to enforce federal laws in states such as California (read about California marijuana laws here) that have legalized marijuana.
A national poll released recently has found that 71 percent of respondents believe the federal government should enforce federal laws in states that have legalized recreational marijuana. Also, 59 percent of respondents said marijuana should be made fully legal nationwide. California Attorney General Xavier Bacerra has said he would defend those abiding by state law. Some fear that high-profile California marijuana businesses may be targeted.
Experts in California reacted unanimously with deep concern over the federal government's stance on recreational marijuana. For one, they are worried that federal officials will take action against medical marijuana dispensaries in California. Some are also worried that enforcement would mean more of an attack on communities of color, whose members are incarcerated at higher rates than their white counterparts, particularly for crimes involving marijuana. Others are also concerned that if federal enforcement increases on recreational weed, the black market for marijuana could continue to grow. Neither Trump nor Attorney General Jeff Sessions have personally commented on the matter and the administration's course of action and officials' understanding of the issue seem murky at this point.
WEED REALITY IN CALIFORNIA
The discrepancy between state and federal laws has been an issue in California and in other states where weed has been legal – medical or recreational. It seems unlikely at this point that the federal government's stance on marijuana will change under Trump's presidency or under Attorney General Jeff Sessions who has taken a firm stance against legalizing pot over the years. Last month, The Sacramento Bee reported that at least 146 people were cited in Washington State for possession of marijuana on federal land, more than seven months after the state voted to legalize in 2012.
Those who use marijuana on federal lands in California, such as in national parks, are also vulnerable to being charged with misdemeanor possession. Even if you have a medical marijuana card or prescription, that's no good if you're on federal land, where pot is still illegal. Just in 2016, Yosemite issued 465 marijuana citations and made 123 marijuana-related arrests. Yosemite rangers also seized 7,428 mature marijuana plants growing inside the park during a 2007 raid.
A report by the Drug Policy Alliance shows that there were nearly half a million marijuana-related arrests – misdemeanors and felonies — in California just between 2006 and 2015. Minorities, particularly African-American and Latino Californians are arrested and imprisoned for marijuana-related offenses at a disproportionately higher rate than others. Also, youth under 18 years of age now make up the majority of misdemeanor arrests. Under federal law, even someone who is caught possessing an ounce or less of marijuana could face up to one year in federal prison and up to a $1,000 fine.
HOW CAN YOU PROTECT YOUR RIGHTS?
This is an environment where laws surrounding marijuana are evolving and in such a scenario, it is critical that you know and understands your rights. Whether you are arrested on suspicion of possessing marijuana or any other controlled substance or prescription drugs, it is critical that you remain calm and collected during the arrest and contact an experienced drug crime defense attorney right away. Drug possession crimes are usually what are known as "wobblers," which means they could be charged as misdemeanors or felonies. The nature of the charges will usually depend on the type of drug, the number of drugs being possessed by the defendant, and the circumstances of the arrest.
If you have been arrested on a drug charge, please do not make any statements to police officers. Contact an experienced criminal defense lawyer who can remain with you as you answer questions. You also need an attorney who is knowledgeable and keeps abreast of changing laws relating to marijuana, as well as search and seizure laws. If the drugs were illegally searched and seized from you, they may not be admissible as evidence. Remember, anything you tell officials can and will be used against. Any drug crime conviction can have a negative effect on your personal life, your career, and future. If you have been arrested on suspicion of drug possession, our experienced Newport Beach drug crime defense lawyers can help build a solid defense strategy and help accomplish a favorable outcome. We will fight hard to protect your rights Contact us at to obtain more information about fighting the charges and getting your life back.